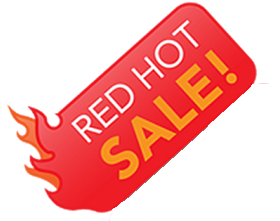 GOOD NEWS: NOW COMPATIBLE WITH JOOMLA 3.x AND VIRTUEMART 3.x

First of all, Thanks everybody, whose confidence in this extension made it a great success. It remained the TOP reviewed extension in Virtuemart extension directory for several years.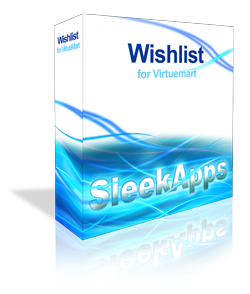 The long awaited Wish list / Gift Registry / Favorite products extension for Virtuemart. It integrates so smoothly you'll swear it's a native VM feature. Wishlist for Virtuemart - Joomla Extension. Create just a single wish list or multiple wish lists as and when you want. Share with family and friends. Facebook, Twitter, Google+ and by Email. Now introducing a great concept of shared wish lists.

Great for Wedding Lists
Bride and Groom can make as many wish lists as they want. They can make personal wish lists as well as combined wish lists. For example, they can make personal wish lists for their dresses and a combined wish list for home accessories.
See detailed instructions to create wedding lists

Contact Us for a trial of the Latest Version.
Short Video Demonstration
Feature Highlights:
- No hack. Native Joomla component, plugin and module.
- MVC pattern
- Shared wish lists. The person/persons you authorized can add or remove products from your wish list. Great for Wedding Wish lists.
- Group or Family wish lists are possible with the new shared wish lists feature.
- Multi-language
- Wish list gets saved in the database, so it can be accessed from anywhere. This is much better than the cookie method.
- Multiple wishlists allowed. A user can create as many wishlists as he want. Any wishlist can be set as Private and Public. Isn't it cool to have a private wish list?

- Private wish lists can easily be shared whenever a user needs it.
- SEF Compliant
- You can send email invitations to share your wish list with others, whether they are registered on that site or not. This is a great viral feature that gets new users to your site.
- Facebook, Twitter, Google+ Sharing
- The layout is highly customizable.
- Automatic email notification if someone buys something for you on your wish list.
- New backend interface has been added to view users' wishlist items in the backend by Joomla Admins.
Modules:
- Active Wish list module
- Top favorite products module
- Public wish lists module
Screenshots
Virtuemart Wishlist Modules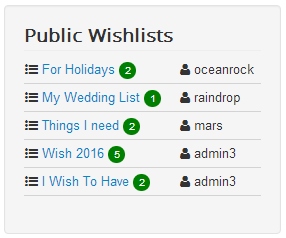 My Wish list - Showing Products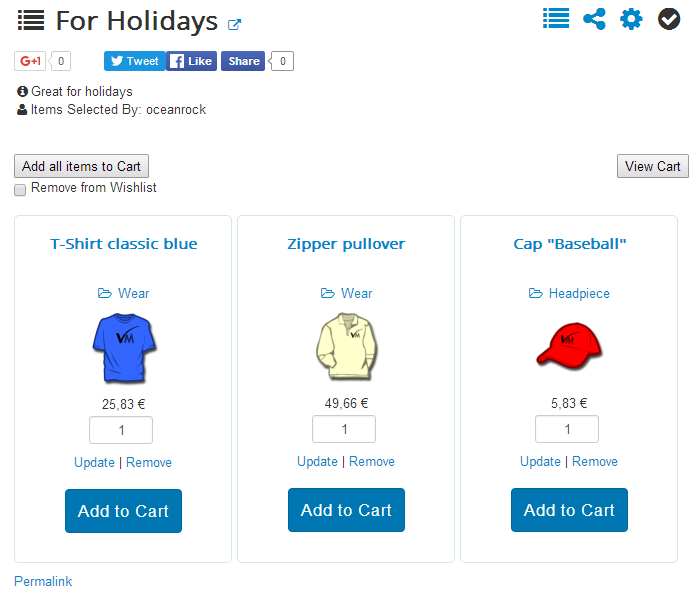 My Wish list - Settings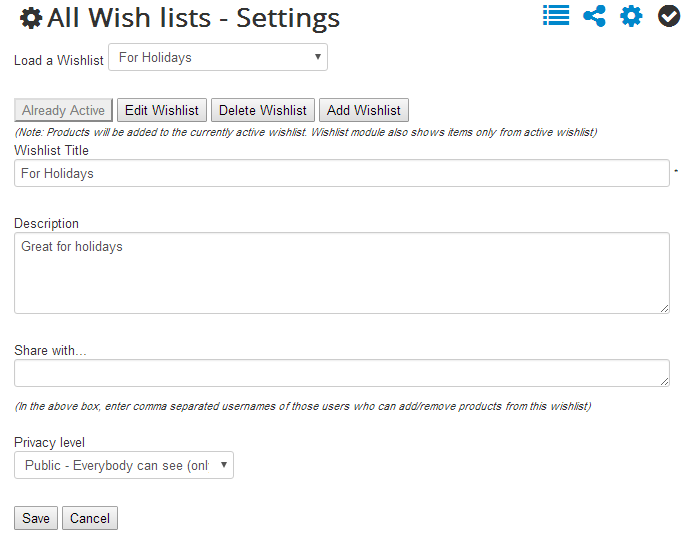 My Wish list - Share and Invite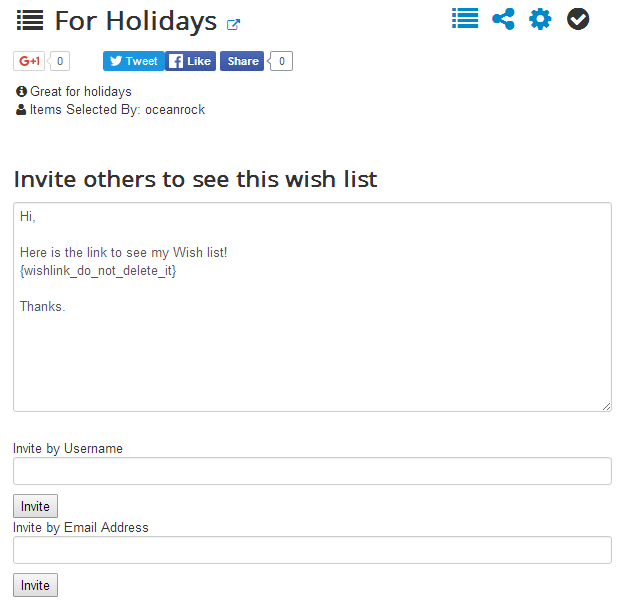 Virtuemart Wish list - Joomla back end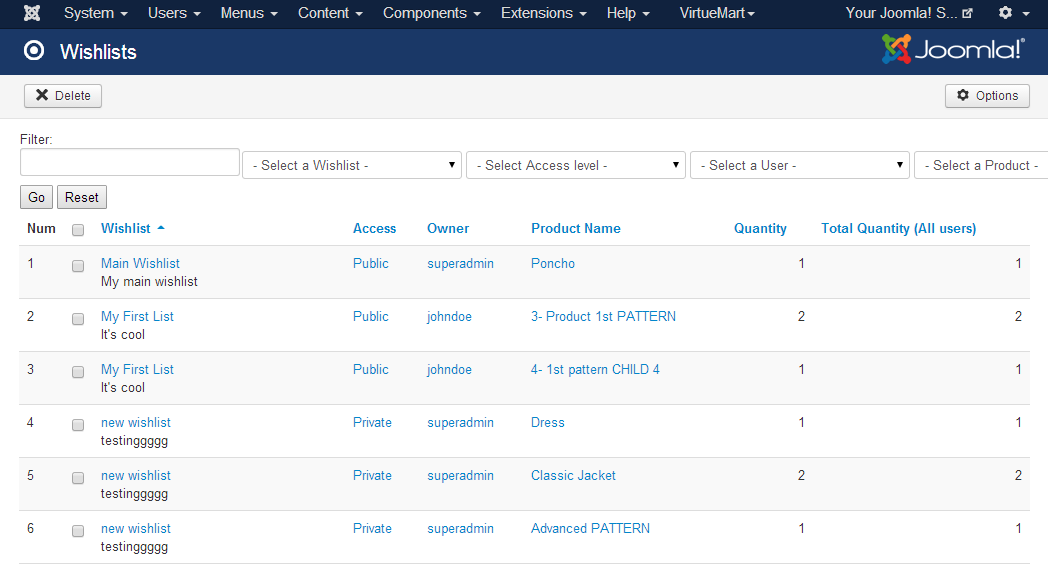 Virtuemart Wish list - Product Page
See the Red Heart image. It is to add this item to your wishlist.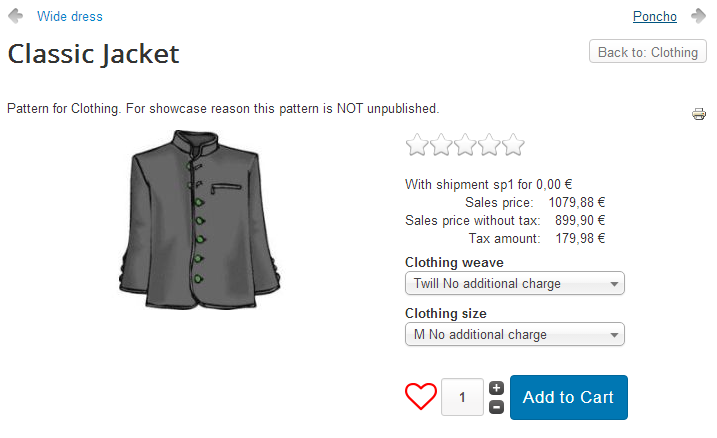 After the product is added to wishlist
See the Filled Red Heart image. It shows that this item is already added to your wishlist.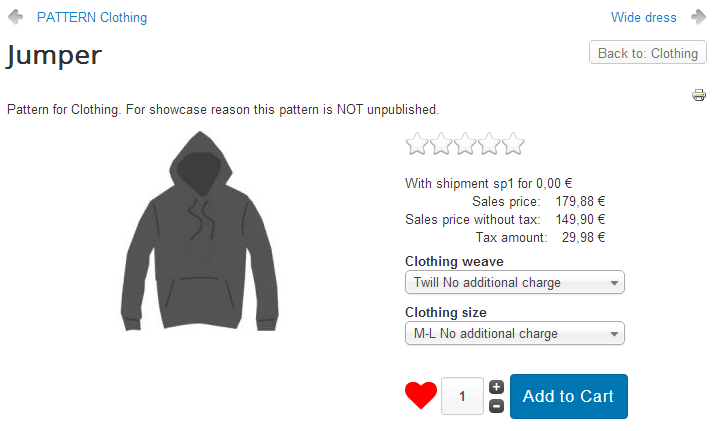 Category Page with Wishlist icons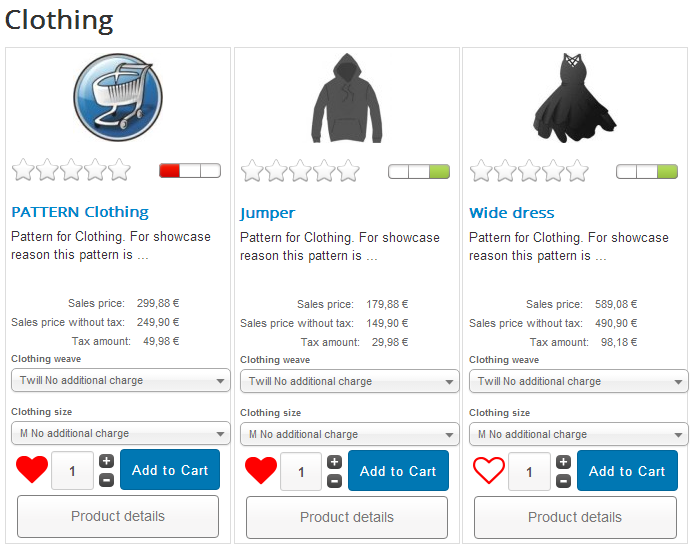 CONTACT US NOW to get a FREE, FULLY FUNCTIONAL, TRIAL.
(Limited Time Offer)
Have a great Web 2.0 look with Wishlist and Product Tags extensions!
---