* Acclaimed as one of the easiest Multisites Extension for Joomla.
Our new Joomla multisite extension allows you to have multiple front end websites with just a single Joomla installation. A single Joomla folder and a single database will show multiple front end websites. Joomla multi sites creation was not that easy before.
You can share categories, articles and modules in a very flexible way between your front end websites. For example, suppose you have 3 front end websites. You can have share an article between your joomla sites A and B. While you can share another article between websites A,B and C. Another article can be shown to all 3 front end websites. You can also have website specific unshared content like articles that are only displayed on either website A, B or C.

Our Joomla multi sites extension allows to have to have a different template for each website and of course the option to have a different home page for each of the website.

Your front end Joomla websites can be shown either on a sub domain, in a sub folder and even on a separate domain with our Joomla multi sites extension. For example, website1.YourMainDomain.com, YourMainDomain.com/website1 and www.Website1Domain.com are all possible.

Front end Administration
One of the great feature of our Joomla multi sites extension is front end administration. You can assign any simple Joomla 'Registered' type user as a front end website administrator. For example, user johandoe as admin of website A and user mark as administrator of website B. They cannot login to back end but they can manage website categories, articles and modules from website front end. Imagine, what kind of flexibility you can get with this great feature.

What's Next?
We also offer a fully functional, free trial of our Joomla multi sites extension. Use the Contact Us option at top to get it now. That gives you a great opportunity to not only see the features of our Joomla multi sites extension but also allow you to implement on your real domain without spending a single penny. Once you are satisfied, you can buy it.
We always do our best to support you even in the free trial period for our Joomla multi sites extension. This includes email support and even hands on support if you need. All of this is absolutely free!


Let's See an Example Multisite Setup
For demonstration, we can consider a sample case. Here we installed Joomla on the following domain:
local-multisite.com
This is called our Main website or "Master website" or Master Site or whatever you call. With several websites created in the front end, this extension becomes one of the favourite extension for maintaining multiple websites with Joomla. Sites created with master website can be called child websites or sub sites.
Including one Master site the following all websites are created with just a single Joomla installation on local-multisite.com. You can see that some of them are on the same domain and one of them is on external domain. All is possible. Then you can assign your Joomla content, categories, articles and modules to different sub-sites. You can also share and assign an article or category or module to more than one store. For example an article can be made visible in your required sub sites. Likewise a content item or module can be shared on all sub sites.
The Master Site
- Following screenshot, shows the front end of master website. Here we can see a specific title and specific menu module for the master website. You can also see a welcome article that is only for the home page of master site. These specifically assigned items are marked by red boxes in the image given below. While login form, search module and shared menu module are the examples of same content shared on all sub sites. This shared content is marked with light blue color.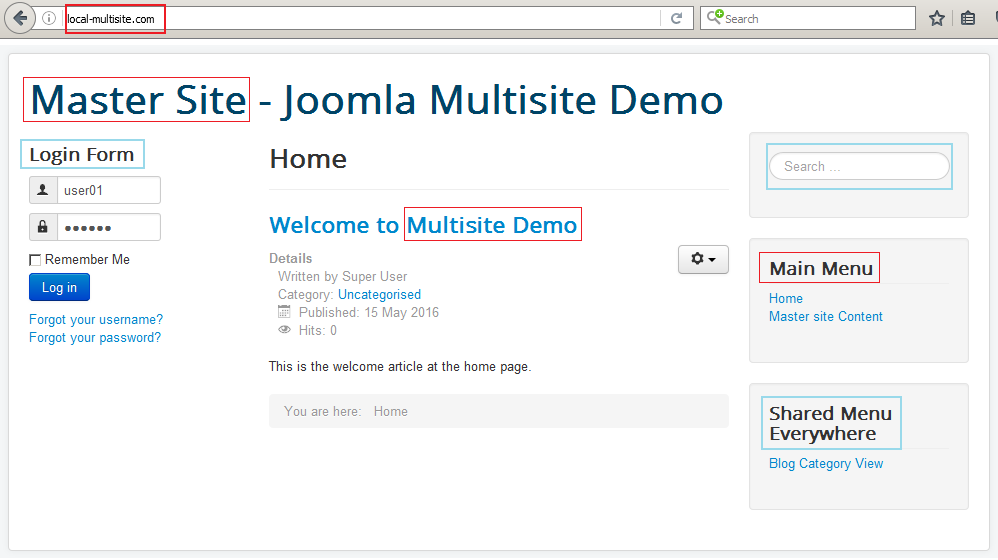 A Sub-site on a separate domain.
- Following screenshot, shows a website on another domain. NOTE that we did not install joomla on that domain. Instead we just pointed the domain
multisite-c.com
to our master website local-multisite.com. This is usually called an add-on domain pointing to an existing folder on hosting of your master domain. So when someone browses multisite-c.com it actually goes to local-multisite.com where our multisite extension for Joomla handles it and shows the content we have assigned to this sub site, i.e. multisite-c.com. This is not a redirection and browser still shows multisite-c.com. You can see that specific items on this sub site are marked with red and shared items are marked with light blue in screenshot given below. Marking red and blue is same as above.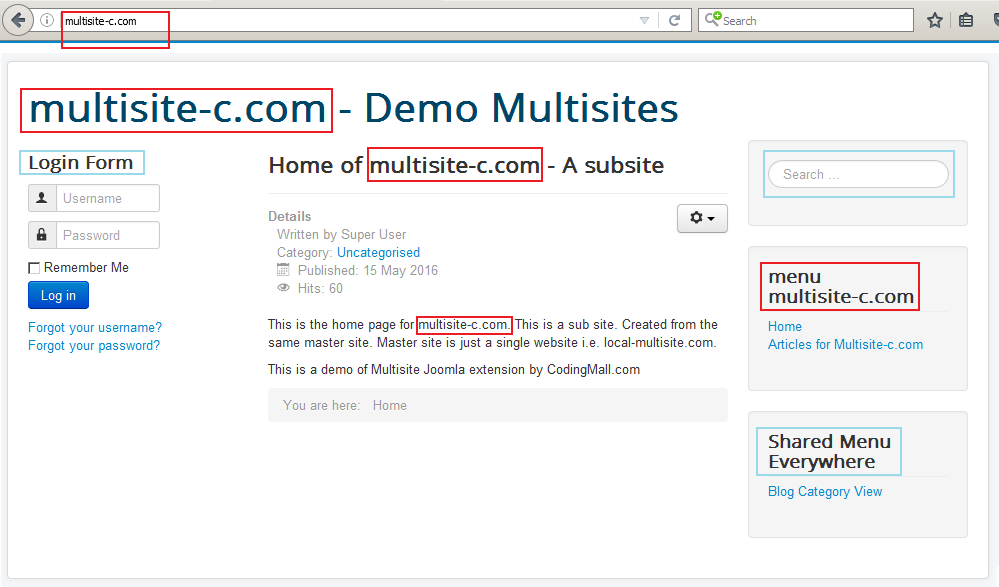 Sub site as a sub folder
See another screenshot below. It shows a sub site like above but see the url. This sub site is shown on the master domain but as a sub folder. This technique can be very useful in some cases.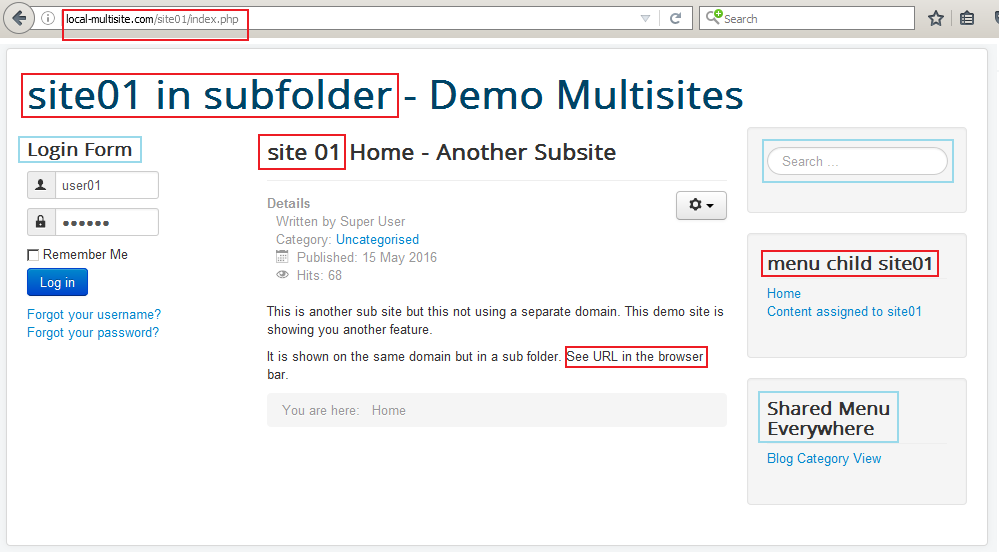 Sub site with different template
Sub sites can even have a different template from the master site. See the following image. The sub site below shows another feature of Joomla Multisite Extension by Codingmall and uses a different template. The template can be assigned to sub sites in our plugin configuration in Joomla admin back end.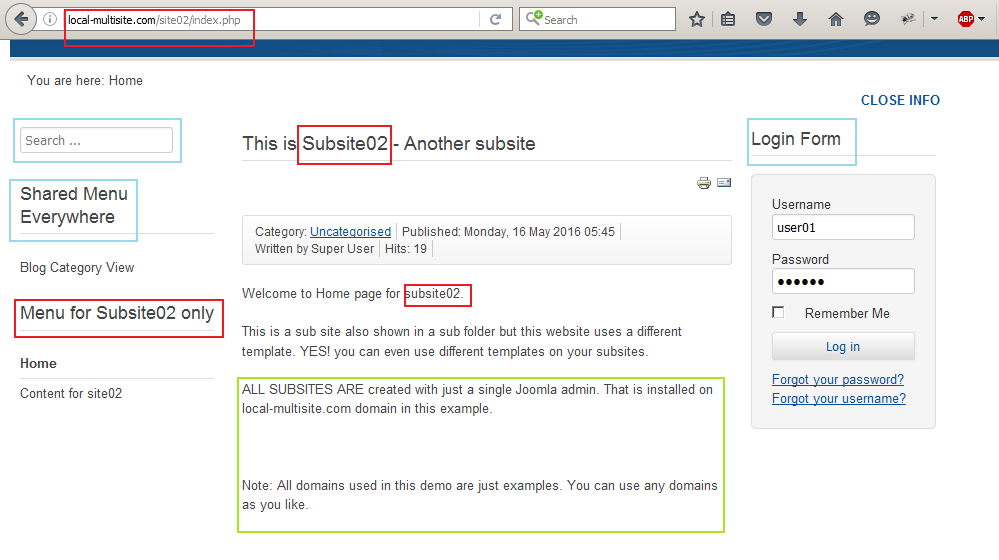 HOW TO SETUP
Here is a step by step guide to setup Joomla Multisite extension from CodingMall.com.
Installation
- Install the plugins.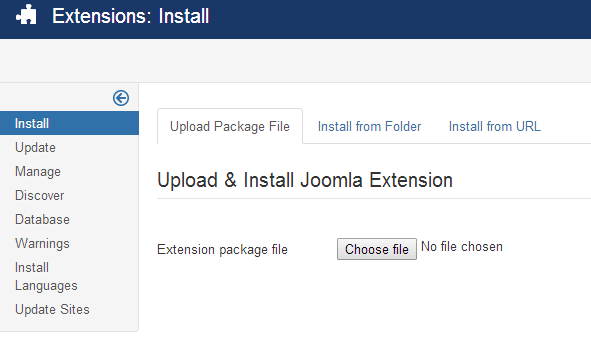 Enable Plugins
- Enable the plugins in Joomla plugins manager.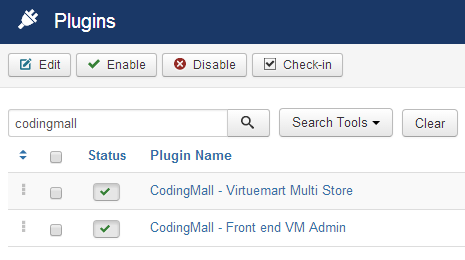 The Control Center Link
- See the newly added "Multisite Control Center" link in Joomla Articles manager in back end.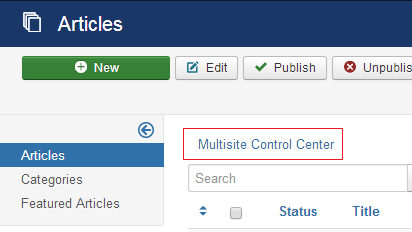 The Control Center
- Multisite Control Center opens in a popup overlay. See the available options in the image below. It is easy to manage.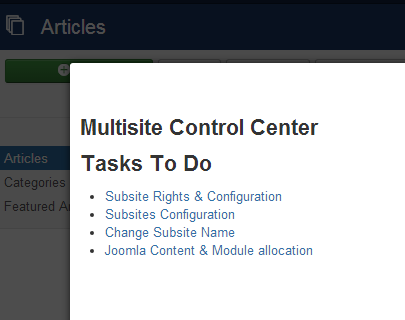 Adding Sub-sites
- Adding new sub sites is simple. Write full domain or sub domain name if your new sub site is on external domain OR just write sub folder name if you want your sub-site to appear as a sub folder on the master domain. Like site01 and site02 shown in above given screen-shots.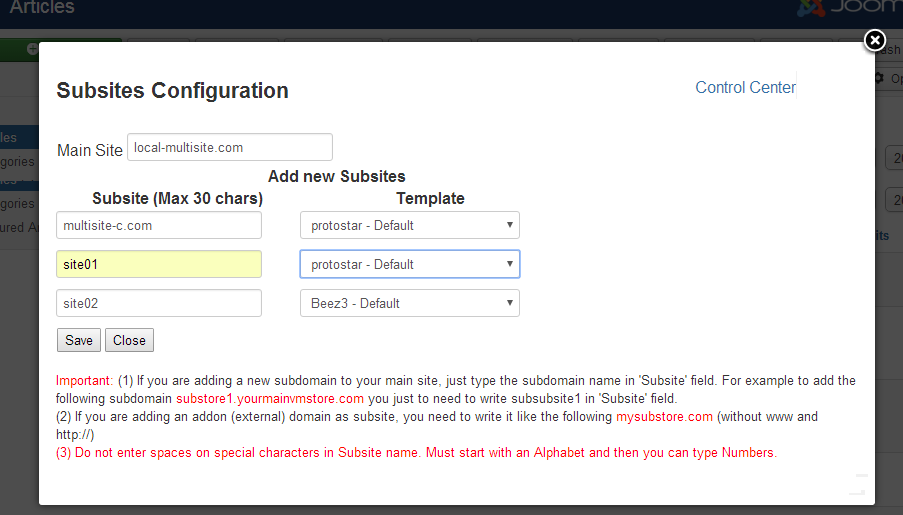 Adding Menus
- Normally each subsite requires a separate menu and menu module to be published. So create a menu for each subsite first. If you are trying to do some advanced kind of setup without a separate menu for each subsite, please contact us for detailed setup instructions depending on your requirements.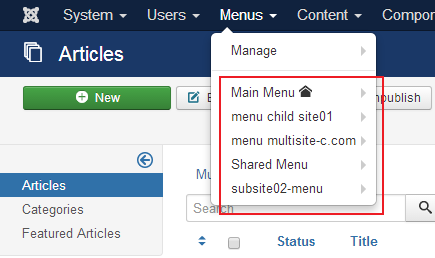 Menu Modules
- Subsite specific menus are published in separate menu modules.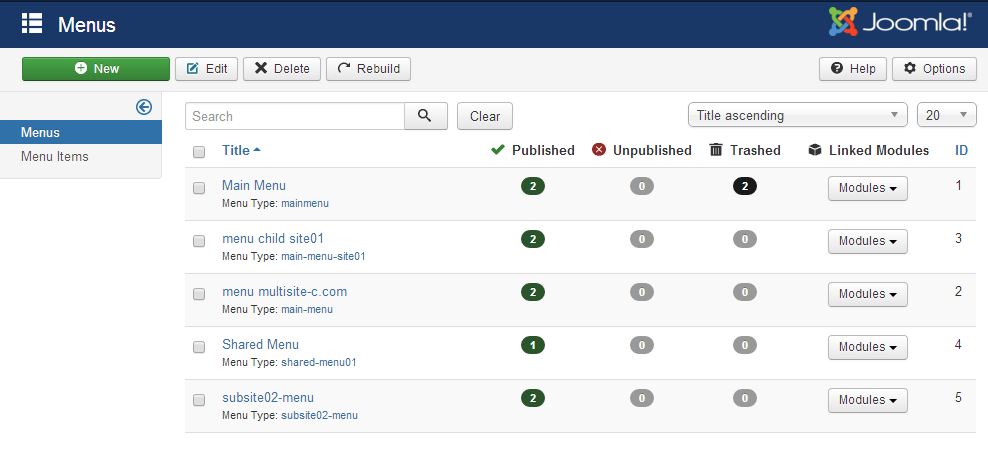 Create Content Categories
- Create your content categories. You can make categories specific to sub sites and also shared categories. There is no limitation. You can organize them in the way you want.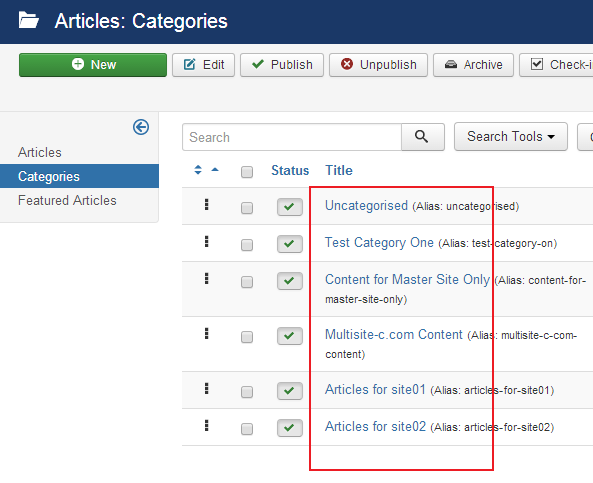 Create Articles
- Create whatever articles you want to show in Master site and in sub sites. You may also need to create a home page article for each sub site.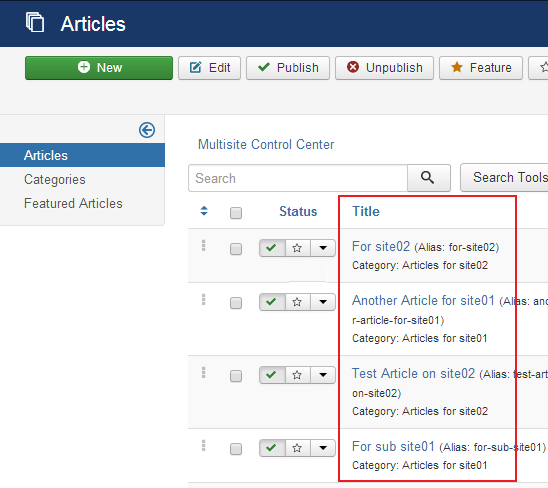 Make Modules
- Create your required modules. These can also be shared or sub site specific. Like we will share search and login module across all sub sites in our example setup. As you have seen above. There are several other modules shown in screen-shot below.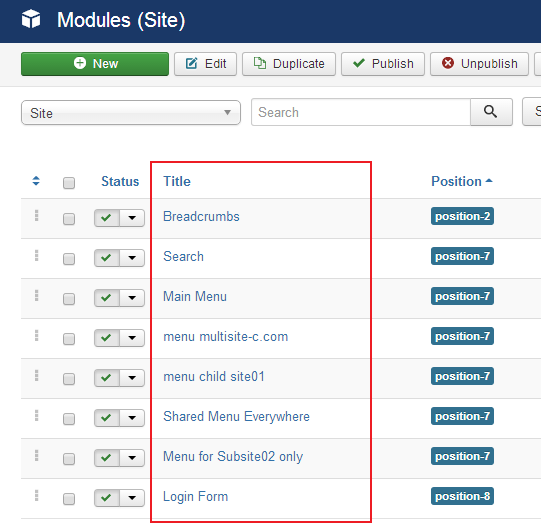 Menu Items in Sub site Menus
- Each sub site menu holds items specific to that sub site. The home page menu item is available in each sub site menu. We note it's ID here. We will need to put it somewhere in a later step.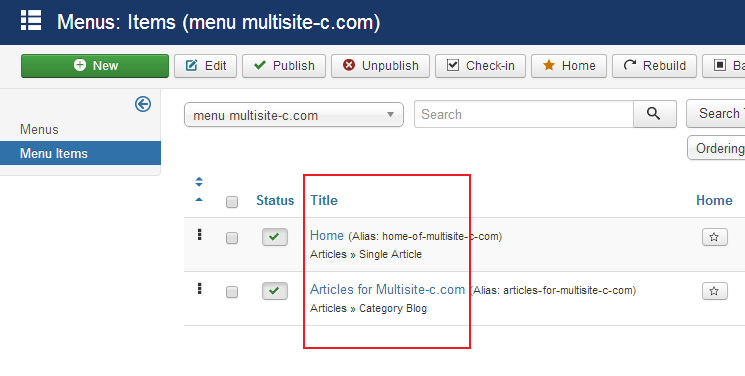 Assign Categories
- Now, it's time to come back to Multisite Control Center. We call it MCC. Here we select the option "Joomla Content & Module allocation". Here we first assign each category to one or more sub sites. It's very easy to do that.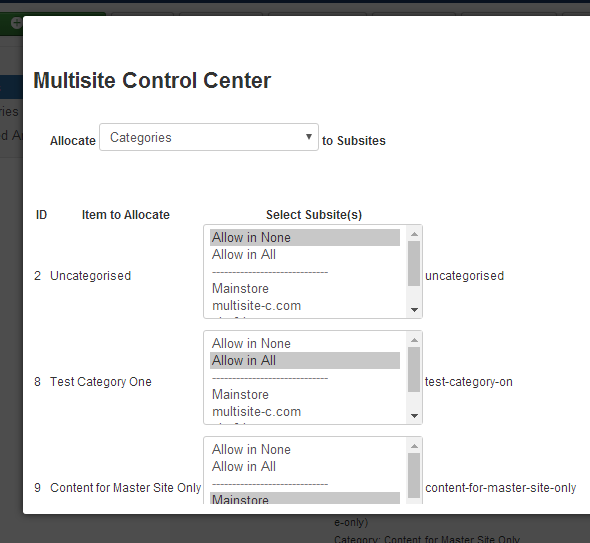 Assign Articles
- Then we assign articles to sub sites. This is same as we do with categories.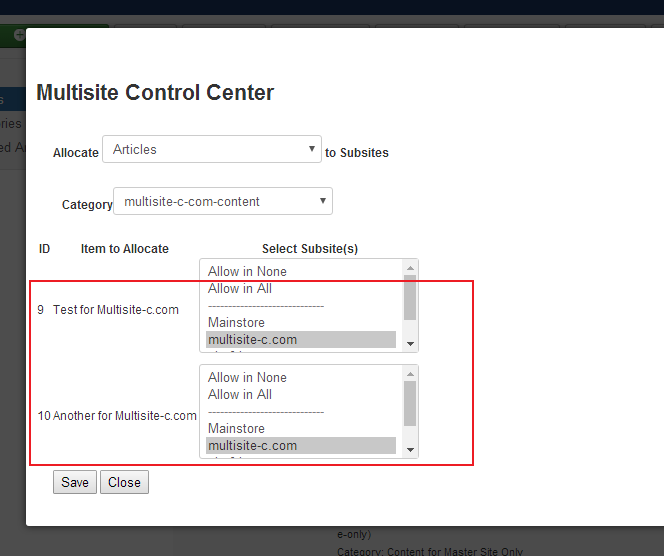 Assign Modules
- You can specify which modules will be shown in each sub site. Just like you have assigned categories and articles above.
The Home of Sub-site
- Here we tell the extension that which menu item will act as HOME page of the selected sub site. You can do this for all sub sites. This is a very powerful feature. You can have a different home page for each sub site if you like.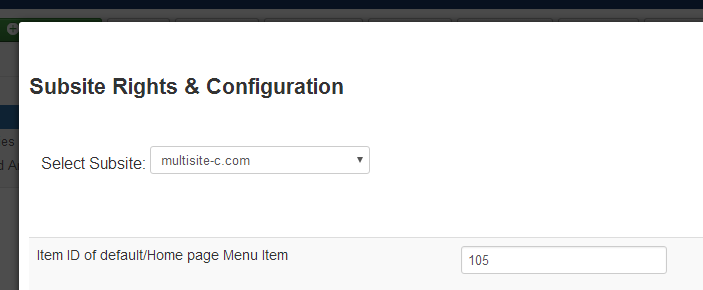 Still unsure? Having questions?
No problem, Feel free to
contact us
. We will be happy to describe and demonstrate.