SimSu - Gold Edition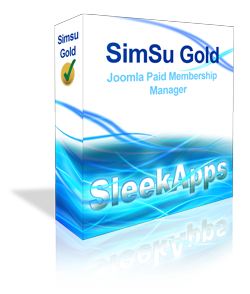 Joomla 3.x ready!

After great success of SimSu we are glad to announce a new Joomla Membership Component, the GOLD version of SimSu. It has all features of SimSu (Simple Subscription Manager) plus new exciting features. We call it SimSu GOLD. Try it now. It is a nice Joomla Membership Component for Paid Subscriptions. You will like this simple and powerful joomla membership extension for your next joomla site.
Free Trial Available with free support. Contact us for more information.
Highlights:
Joomla 3.x native Subscription Membership extension

Easy to Use.


No hacking and joomla remains easily upgradable
Create Free plans or Paid plans as many as you want
Trial Period for subscription. A great feature to offer by our Joomla membership extension.
Manual approval of subscriptions on your choice
Option to display selected plans on different menu items