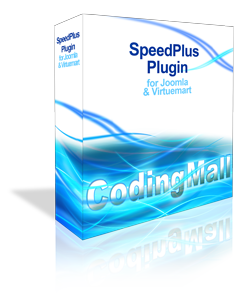 Seeing is believing. Try SpeedPlus and see for yourself.
Website speed is becoming more and more of an issue for website owners. In fact, the latest murmurings from the search engine world describe a future where Google rewards or punishes your website depending on how fast your pages load.
Most Joomla sites, with default settings, are typically slower than the average static html website. Why? A lot of factors can contribute, but one of the main factors is database queries.
Depending on your site's content and settings, loading your homepage can involve HUNDREDS of queries to your database. All those queries take time. Time your visitors (and Google) don't have. So what can you do? How do you fix it?
The SpeedPlus
SpeedPlus allows you to quickly and easily tell your Joomla site to CACHE certain modules. Modules YOU specify by simply pasting a list of module IDs into the plugin configuration box.
Then the SpeedPlus plugin takes care of the rest. In fact, a simple VirtueMart homepage running SpeedPlus dropped from 247 queries down to 46. That's an 81% reduction in queries.
To see the proof, watch the video at the bottom of this page. We show you how to download, install, configure, and get maximum results in just a few short minutes.
Contact us NOW to GET a fully functional trial, absolutely FREE!
Watch this video showing you the complete download, installation, setup, and licensing.
If you face a problem in getting it working on your site, just let us know. We will be happy to help you.

Limited Time Special Discounted Price!

The Need for Speed Bundle - SpeedPlus and SpeedBooster
Instructions:
After installation enter module id(s) in backend parameter 'Modules to Cache', that you want to speed up with this plugin. One of the most important module is the one that shows Virtuemart categories.
Enable the plugin. You will see a license code on top of your website. Click on Trial License link and save the license file to your computer. You will need to upload that license file using the upload button below license code.
Once it is uploaded, your plugin is ready to use. You can turn on Joomla debug mode to compare number of queries.
Use the url:

//yourdomain.com/index.php?vmspdplus_cc=1

to see the output bypassing speedplus. This shows you the the performance WITHOUT the SpeedPlus plugin. When you browse

//yourdomain.com/

the output will be optimized by SpeedPlus.
Important:
DO NOT cache dynamic modules like Login, VM Cart, Who is Online, etc.