Wish list Details Customize Buy Now Favorite Products Plugin - Step by step instructions:
Download the installation package into a temporary folder
Extract it and you will see 5 installation packages for a component, 3 modules and a plugin.
Install com_vmwishlist first, then mod_vmwishlist, mod_vmwlists, mod_vmwwishtop and then plug_vmwishlist.
Enable the modules from modules manager in Joomla back end.

Enable the plugin from plugins manager
Generate and upload the license. If you want to test on a development domain, click 'Trial license' link otherwise click 'Get full license' link. Download the license file to your computer and then upload using the file upload button in license dialog.

The installation has been completed. In case of any error, please feel free to contact us.

Now come to Joomla front end and browse any product's detail page in Virtuemart.


Using the extension:
Browse any product detail page. You will see an 'Add to wishlist' red heart icon here. Logged in users can click it to add products to their wish lists. 'My Wish list' module shows items in one's own wish list. You can change this red heart icon to any of your own image by replacing
/plugins/system/plug_vmwishlist/wishlist-add.png
and
/plugins/system/plug_vmwishlist/wishlist-added.png





After adding product to your wishlist, the heart icon gets filled. That means the product is already added to your wish list.


In the same module, clicking the 'Details' link at the bottom takes you to a detailed 'My Wish list' page.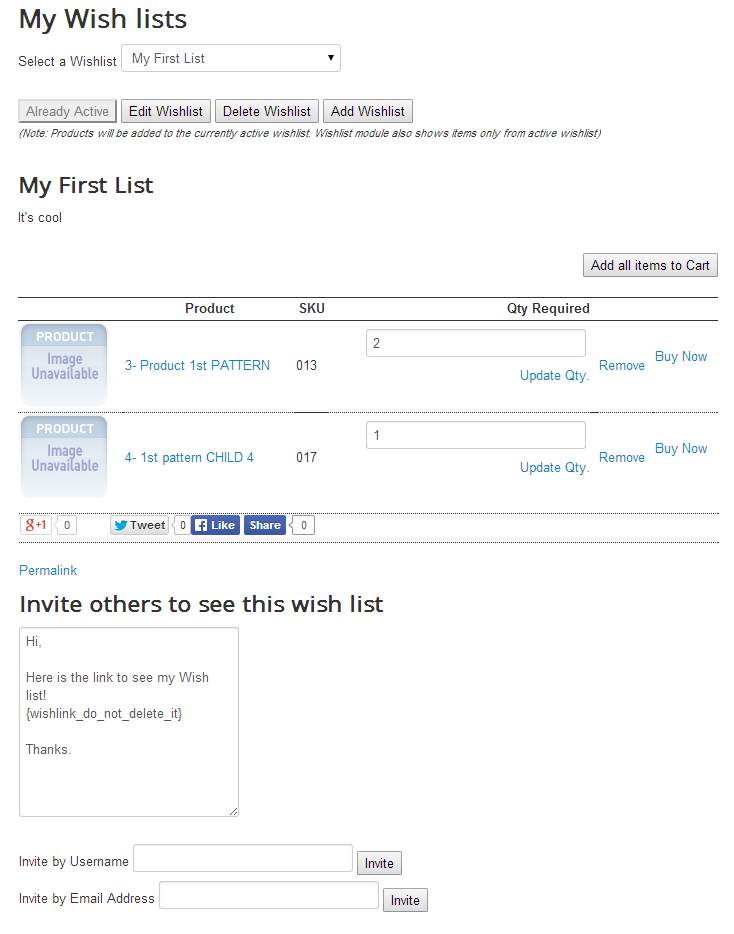 You can update or remove wish list items here.
You can send an invitation email to see your wish list, to any other registered user or even to some one who is not registered by entering his email address and click 'Invite' button.
The receiver of your invitation will see a link in that email to view your wish list and in your wish list the invited person will see a 'Buy Now' link to buy an item for you.

On that person's checkout, that item will be subtracted from your wish list and you will receive an email to inform you that someone else has ordered something for you.
You can ask for a fully functional free trial. Please also contact us if you have any questions. Buy Now