Here comes SUGA - Simple User and Group Access control. A great choice to have really powerful access control in front end of your Joomla website. In fact you can define access control options for any page for any component.

SUGA offers you virtually unlimited choices of schemes to set access rights to various areas of your website.
More than Joomla ACL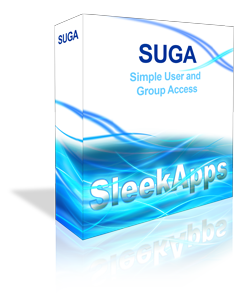 User Groups Creation
Group based permissions
Set permissions based on component actions.
Product Highlights:
No hacking means you can easily upgrade your Joomla installation.
Can be used together with SimSu (Simple Subscription Manager) to add Joomla users to various SUGA access groups automatically upon subscribing a plan on your website.
Unlimited group creation. You can assign users to multiple groups and can customize individual access rights for groups of users or for individual users.

Restrict any page of any component based on url.


Restrict any action of any component

based on url.

Possibility to restrict any Joomla section, category or even a single article.

Show blog view intro section but protect full view.


Please

contact us to have a Free, Fully functional trial for 15 days!






£39.99 .......................................... Buy Now