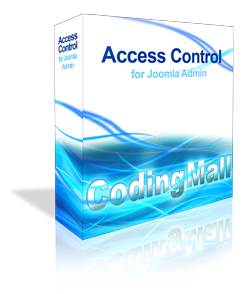 Backend Access control Manager for Joomla provide you great control over administration operations beyond Joomla ACL. It extends Joomla ACL very efficiently.
You can create unlimited user groups and protect different options based on YOUR choice irrespective of user's Joomla group. Means, you can protect options from any user at your will, even if the user is an administrator.
Joomla 1.5,1.7,2.5,3.x ready, no hacks at all and Joomla remains easily upgradable.
Unlimited User Groups Creation
Group based permissions
Set permissions on any action of any component
Can be integrated with SimSu (Simple Subscription Manager) to add Joomla users to various SUGA access groups automatically upon subscribing a plan on your website.
Restrict any page of any component based on url.
Restrict any action of any component based on url.
Possibility to restrict any Joomla section, category or even a single article.
Great for JomSocial backend access control. Specially to assign users as moderators.
Virtuemart access control.
You can limit back end options for any type of users. Even for administrator type users.
Please contact us for a FREE, fully functional TRIAL or a personalized live demo.