After great success for our SpeedBooster for Virtuemart, we are glad to announce our new Speed Plugin. This plugin can speed up any Joomla site. Our plugin is ready for major Joomla extensions including Virtuemart, JomSocial and many others.
This plugin focuses on CSS and javascript files to speed up your website. Our state-of-art caching, combining, placement and compression of CSS and javascript on your site can make things really good. This is not only useful for first time visitors but also for returning visitors.
Test it on YOUR site before you buy
Contact us now to get a free, fully functional copy to try it live.

The Need for More Speed!

See what the giants are saying.
According to surveys done by Akamai and Gomez, nearly half of web users expect a site to load in 2 seconds or less, and they tend to abandon a site that isn't loaded within 3 seconds.
79% of web shoppers who have trouble with web site performance say they won't return to the site to buy again and around 44% of them would tell a friend if they had a poor experience shopping online.
(Source: kissmetrics blog)
A lot more to say about speed and about our new speed plugin but the best thing is to see it, test it and enjoy it by yourself.
Great for Joomla eCommerce Extensions

Speed is one of the biggest concerns for e-commerce websites. Faster loading increases conversions. Don't loose your customers. Good looking websites attract visitors but their slow loading ruins the whole experience.
Limited time Special Discount!
Speedero
Nickname of this plugin is Speedero. If you are looking to optimize your Joomla website this plugin can really enhance it. You can confirm it by using Google PageSpeed Insights. Speeding up a Joomla site is really important. Sometimes it gets really slow and you loose your visitors. Please read carefully the instructions to test.
How to test?
1) Install the plugin

2) Enable it. You will see a license dialogue in
Joomla backend >> Plugin Manager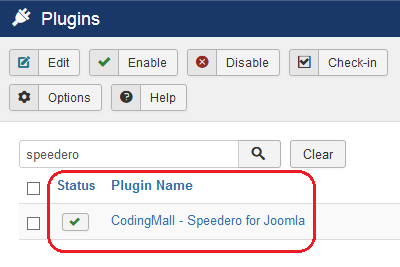 3) Click on 'Get Trial License' link. Download license file and upload using the file upload button.

4) The plugin has several backend parameters. Edit it to see them;
Joomla backend >> Plugin Manager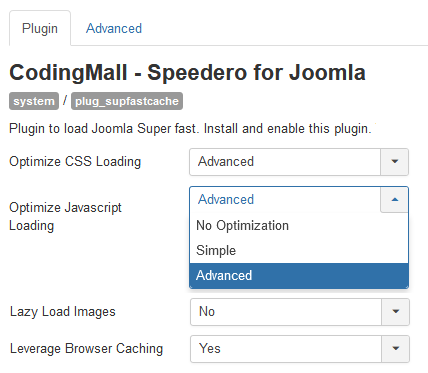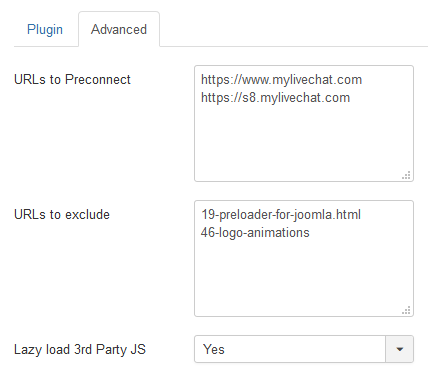 There are several parameters available in backend. By default, some are set. If your web server is old and slow, you may need to do a little optimization to get the best speed score. By the way, most professional hosting servers easily work with all optimizations. If you do any change in backend parameters, test it with Google Page PageSpeed Insights.

If you see any conflict between your template, any third party extension or any other plugin, please let us know.
5) Here is the link for help on using Google PageSpeed Insights
https://developers.google.com/speed/pagespeed/insights/

Just ask us, we will be happy to assist you in evaluation.
In the Eyes of Google!
More speed enhances your visitor experience and may also have a positive effect on your site position in Google Search. Here is some background information to speed up Joomla.

Server Side Optimization
Joomla has a built-in cache plugin, which caches the whole joomla page. When this plugin is enabled, first time it caches and next time(s) it just deliver from cache. It does not go to each Joomla component for getting the output. So not K2 and Virtuemart, nor JomSocial. Definitely it is fastest joomla page creation on server.

This works fine for totally static Joomla sites. But if you have anything dynamic on your page, cache plugin mostly give the wrong output. That is because it does not process anything at all. So, if cache plugin is enabled and your site is totally static, you may set a cache time in global configuration something like 21600 for 15 days and get a fast output of Joomla page's html. In this case you don't need anything for server side optimization. This is because Joomla page created on server once and remains same for next 15 days or so.

As this is not the case with most websites, you need to disable cache plugin. Joomla websites are much more than just static HTML pages. If cache plugin is disabled, there is a need of our K2 listings Speed up or Virtuemart Speed up plugins. Our plugins, caches only the component content (K2 or Virtuemart) and not the whole Joomla page. So, other parts of the your Joomla site may contain dynamic content.

So the bottom line is;

1) System Cache plugin disabled - Slow - Everything processed every time. Also the K2 and Virtuemart content.

2) System Cache plugin disable but our K2 Speed Booster and/or Virtuemart Speed Booster enabled. Best in most cases. Our Speed plugins deliver from cache but Joomla remains dynamic. Means, speed without any compromise.

3) Speeding up loading of Joomla Modules with our SpeedPlus Plugin. This plugin is good for all sites and not for any specific Joomla extension.

4) Not recommended and not usable for most websites. System Cache plugin enabled - No processing at all. Page delivered from cache but static.

5) For some dynamic extensions like JomSocial, the server side optimization mostly does not work. In that case you have the choice of optimization on client side when your browser delivers the HTML to the visitor.

Client Side Optimization of Joomla
Your Joomla site is not only a bunch of html tags. It links to various other resources as well. Like CSS files, Javascript files, Images and many more.

Regardless the method you use for server side optimization, the client side optimization is equally important. It is actually arranging your html code efficiently that client browser can download as fast as possible. Various tools are available to check your Joomla site speed for client side optimization. As we all know PageSpeed Insights from Google is great.

The plugin named Speedero, the one you are looking at now, can automatically arrange and optimize the HTML produced by your Joomla site. It does many things including Javascript and CSS optimization, Image lazy loading and many more.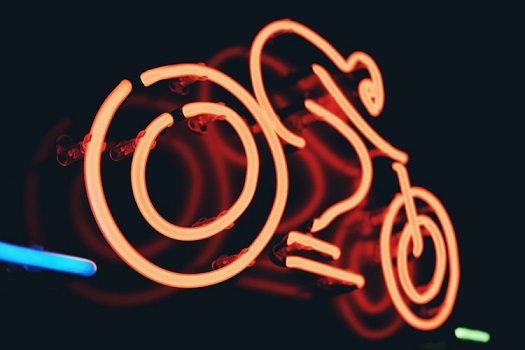 Eliminate render-blocking resources
Google Page Speed Insights often suggest you to Eliminate render-blocking resources. Why it is important to eliminate the resources that are blocking the rendering of your page? and how to do it is very important to understand. Normally, each web page has several stylesheets and javascript files linked. If they are linked in a way, which restricts browsers to render the page in front of the client unless all resources are fully loaded, lefts a bad impression of slow performance to your visitors. You need to avoid it. Our speed plugin automatically takes care of it by moving, merging and delayed loading of your critical page resources, CSS files and JavaScript files. Hence, you get a good Google page speed score and better performance out of the box.
Custom Services and Beyond Joomla
If you want to speed up more even after using our Speedero or your site is not Joomla, we also provide customized services to increase your website speed and score. You will get a dedicated one to one support. Google loves faster sites which means a possible better raking in search results. Always keep an eye on performance of your site.

We can do it for any site. Any CMS, any framework. It can be anything. Joomla, WordPress, Drupal or any other CMS. Web Speed Up rules are same. Besides scripting, server configuration also plays in important role in server side optimization. Your CSS files, Javascript files, compression, caching, SEO plugins and many other things can be the cause of slowness and low speed score. Don't hesitate, act now.

Free Consultation
Sometimes, things conflict in your Joomla template. It makes your website loading slow. We provide free consultation to find the problem and to suggest the best way to make your website loading faster. Feel free to Contact Us. We will be happy to assist.