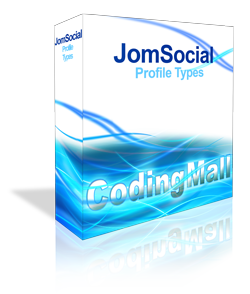 Advanced Multi Profiles Manager
Create unlimited profile types and customize JomSocial for each profile type, as you want! JomSocial 1.6 ready. No problem in upgrades!
Other than default, you can optionally assign different settings for each profile type/user type. Some of them are:

- Template
- Profile fields
- Default Privacy Settings


- Terms message and settings
- Featured limits
- Walls settings
- Messaging and number of messages per day
- Reporting settings
- Group enabling, creation, moderation and discussion utility
- Group settings and limits for number of groups and photo uploads.
- URL format
- Photo settings and number of photos allowed
- Video settings and number of videos allowed
- Various facebook settings
- Display name, editor, number of activities and show avatar in activity
- Karma settings
- Enable/Disable social bookmarking
- Different registration link for each profile type. On registration completion users will automatically be assigned to the group they selected.
- Although this hacks core code but just a few lines. Joomla and Jomsocial remains easily upgradeable.

Imagine, how you can customize your JomSocial site. You will have great options. Premium members can have stunning looking templates, more fields in profile, more photos and more videos. In short any combination of the above listed features.

And the best news. All of this can be integrated with our "Paid Membership Manager". Means, user can join different categories based on their subscription plans. Free plans and Paid plans, as per your choice.


Contact us for a live demo.

Standalone

£59.99 Introductory Offer £39.99 ........................... Buy Now



Bundled with Paid Membership Manager. Two in one, save money!


£89.99 Introductory Offer £69.99 ........................... Buy Now