Acclaimed as one of the best and simplest wordpress plugin to run multiple websites from a simple wordpress installation. You do not need to go into the complexities of wordpress multi user. Just install the wordpress simple. Like you do for any new website.
Suppose that you installed WordPress on example.com. Of course you can access it on that domain domain you can also have the following options:
Note: In all of the following three options, you may have a different theme, different settings, different content, different pages and different widgets on each sub website. You will do these settings in our Multi site plugin settings in WordPress admin for each domain, sub domain or sub folder.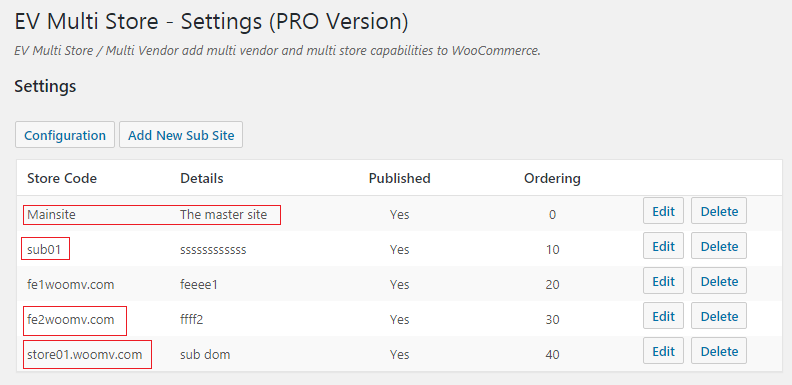 1) Use separate domains
Just point other domains to your main domain for ex. example.com. This is called making aliases of your domain.
For example, you may have
example.net
example-more.com
example.co.uk

or any other domain. You just need to point any other domain to the same server which hosts example.com. Once you do that successfully, your other domains will show the same content like example.com. For example, if you browse example.net, you will see the same content as you see on example.com but the browser bar will remain showing example.net.
If this happens your sub site domain is correctly set up. Now, you need to do further setup in our Multi site plugin for WordPress Configuration.

2) Use sub domains
For example, your blog may show content about cars at
cars.example.com and similarly, you may have other sub domains like;
mobiles.example.com
garments.example.com
and so on. For setting up sub domains, again you just need to point each sub domain to same folder where example.com WordPress website exists on your server. The rest of the setup will be done from the multi site plugin.
3) Use sub folders way

You may have sub sites also at;
example.com/site01/
example.com/cars/
example.com/electronics/
and so on.
Setup Instructions
- Upload plugin package file and install via WordPress admin.
This is the simple normal install like any other plugin. Next, you need to get a license file;

- Go to Settings >> EV Multistore >> Configuration
There you see a license dialog asking you to upload the license file. If you are using it as a trial, Just click the link "Get Trial License". This will download a license file. Save this file to your local computer and then click file upload button in license dialog to upload this file to your WordPress site.
Once it is loaded, your plugin is licensed and you see the configuration screen. If the license dialog is not gone and you keep seeing it, feel free to ask us for free support.
If you have bought the WordPress Multisite plugin from our site, use the login and password that we sent you via email and login to our site. Then click "Get Full License" link to get your full license file.
Configure it
In configuration screen, you see the following fields:
Mainsite Domain
This is filled automatically and showing your main site domain name. For example, if you installed it on example.com, this field should automatically showing example.com. if domain name is incorrectly filled, you can manually correct it.
Do NOT write http:// or https:// with domain name. Just domain name is enough.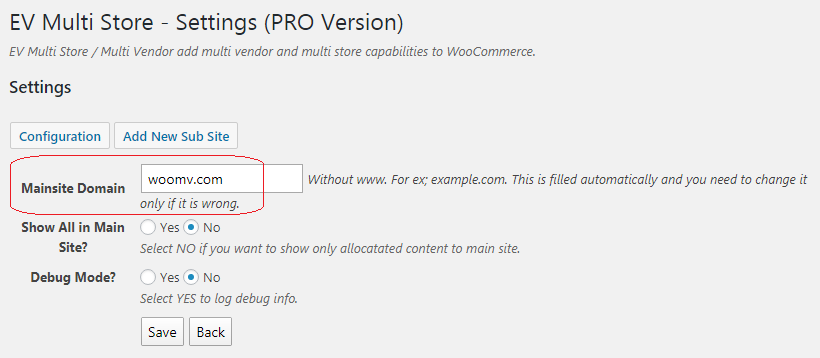 Show All in Main Site?
Select YES if you want to show ALL posts, pages, widgets and WooCommerce on your main site. But if you want to show only selected posts, pages and productcs etc. on main site you should select NO here.
Debug Mode?
It should be set to NO. This option is for debugging only when required.
Creating Sub Sites or Sub Stores
The next step is to create sub sites in our Multisite, Multi Store plugin for WordPress and WooCommerce. As stated above if you installed the plugin on example.com and you want to show some on example.com and some different content on example.net, you need to create sub site for example.net in the plugin settings.
For this click "Add New Sub Site" link.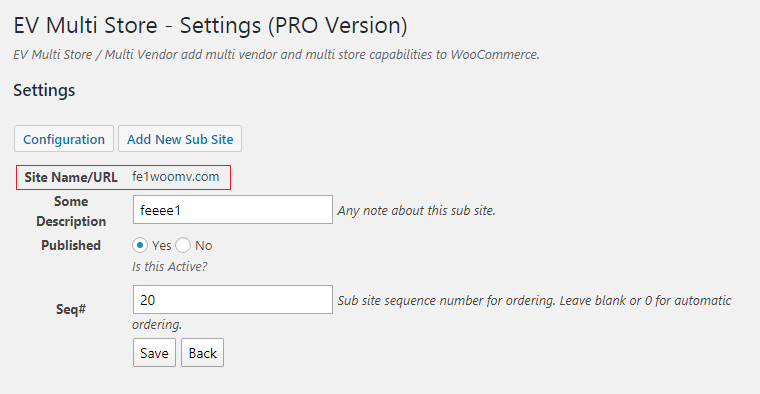 * Remember again, that WordPress is only installed on example.com in this case and the wp-admin is accessed via example.com/wp-admin/
On clicking "Add New Sub Site" link, you will see a form with the following fields:
Site Name/URL
Here you will write a Sub Site domain. For example, example.net (as mentioned above) or example.co.uk or cars.example.com or blog.example.com etc. Just enter "cars" if you want to use your sub site as example.com/cars. This is the sub folder way to setup sub sites.
Some Description
Here you can write any description. This is not shown anywhere in front end.
Published
This should be YES is sub site is active. If you want to make it unaccesable, just unpublish it. This field is useful if you are using our plugin to make a multi vendor shopping mall like website. You can turn off vendor sites using this field if they did not pay the subscription fees. This is good for a typical WooCommerce multi vendor website and also equally good for a multi author blog where each author is the owner of his own website.
Seq#
It is just for the sorting order of sub site records.
Sub Sites List shows all created sub sites. Each row shows an Edit and a Delete button to either modify or delete the sub site record.
Allocating Posts and Pages
Go to Posts >> All Posts. In this screen you see a sub sites multi select list on top. This is added by our Multi sites plugin in posts and pages screen. First select sub sites from this list. Use Ctrl+Click to select multiple sites. Then select individual posts or page from the list below. Then click 'Allocate' button.
Now if you go to example.com front end, you will see the posts or pages that you allocated to example.com. Then you can see example.net front end. It shows the posts that you allocated to this domain. The procedure is same for any sub site.
See? how easily you can separate or share content on different websites with just a single, easy WordPress installation.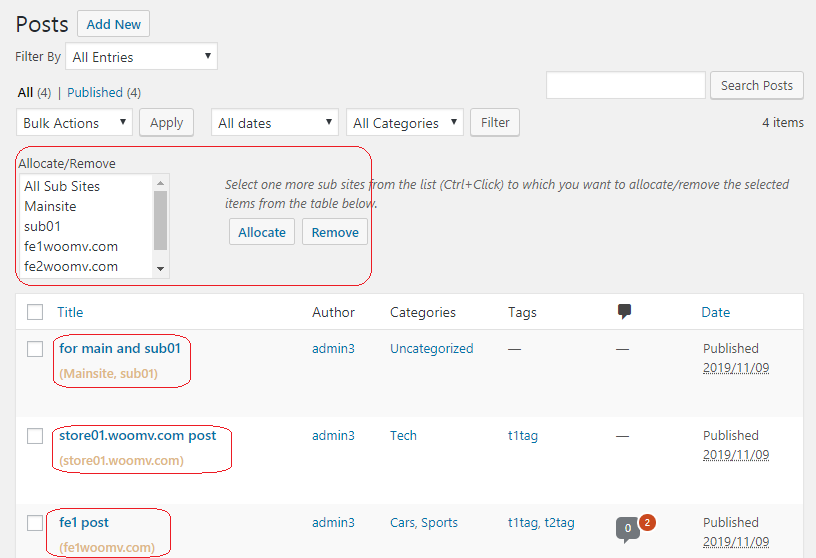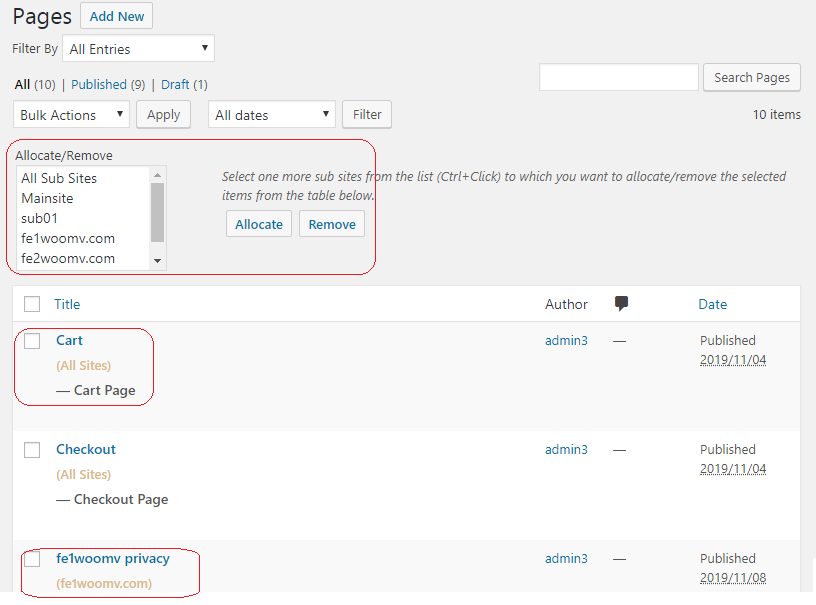 Different settings for each Store
You can keep the settings same or make them different for each sub site or vendor store. This is all very simple.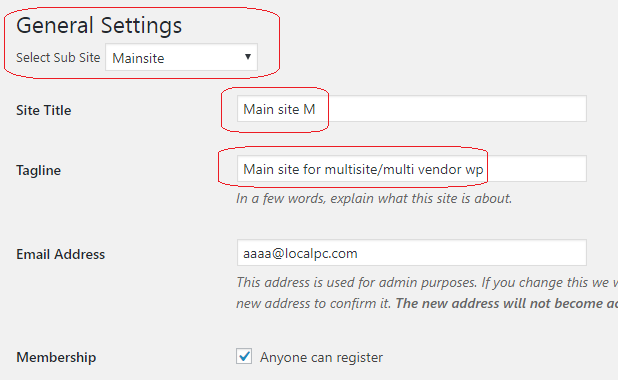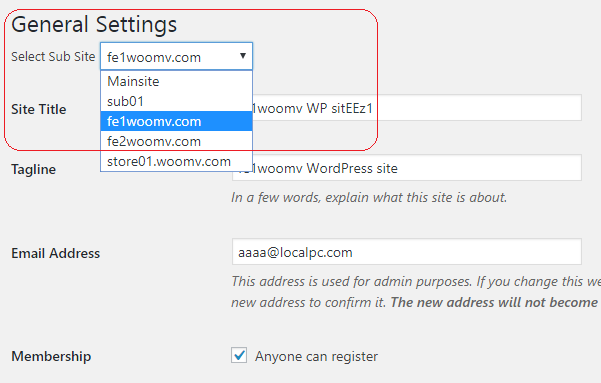 Different Themes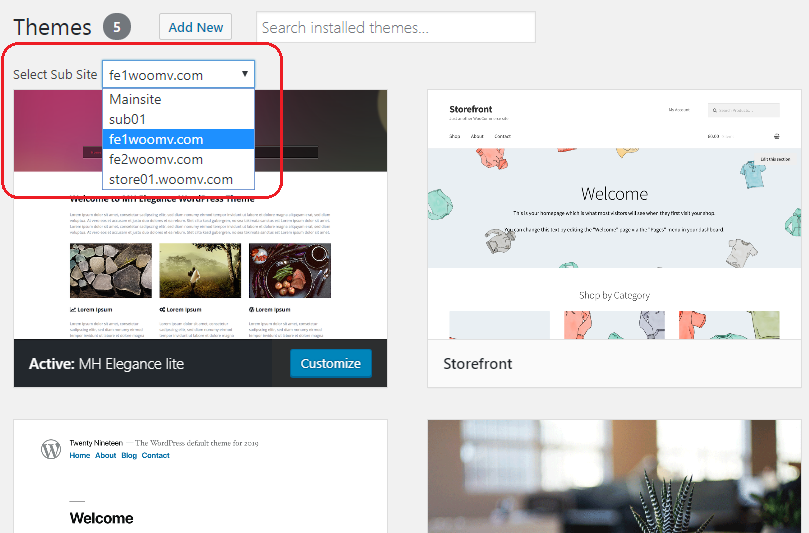 Widgets Allocation to Sub Sites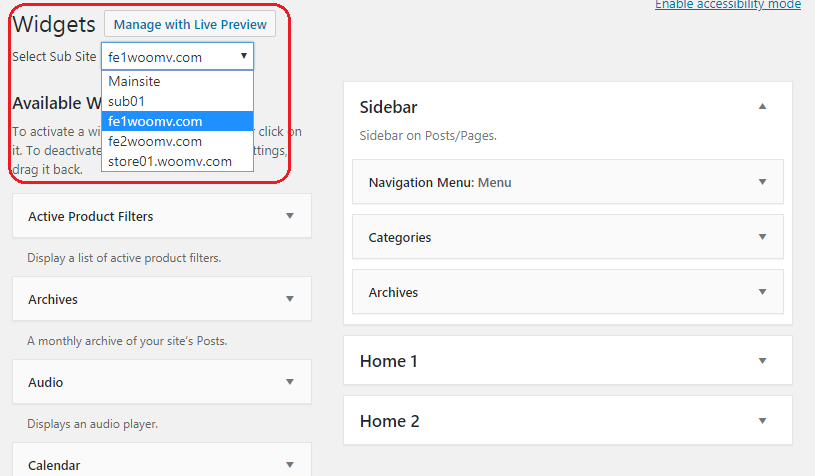 Menu customization for each Sub Site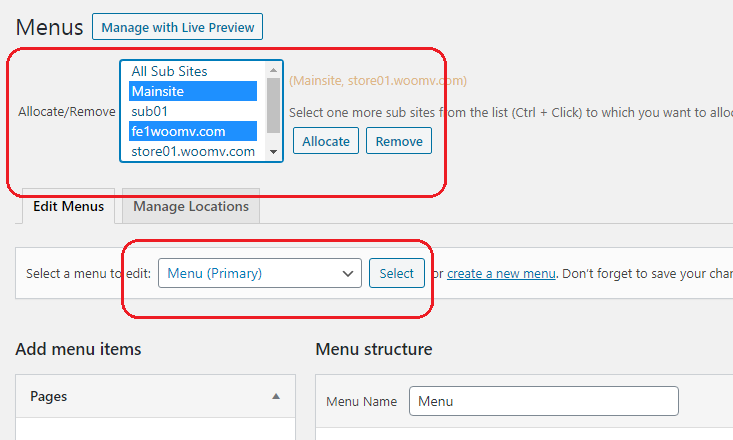 Multi-site/Multi Vendor for WooCommerce
This plugin also supports WooCommerce. You can create products in WooCommerce back end. Then you can publish them on different sub sites.
For example, you can show electronic products with appropriate related content and beautiful related theme on
electro-example.com
and office stationary on
example-officeworks.co.uk.
That could give you better SEO rankings and also higher sales because of related theme, content, products and widgets.
Contact us at This e-mail address is being protected from spambots. You need JavaScript enabled to view it to get a fully functional trial or to buy it.